Teaching evolution through play
Our universe was created almost 14 billion years ago. Since then, physical, chemical, biological, social and cultural evolution has made this world what it is today. The EvoSpieleKiste from the Richard Dawkins Foundation for Reason & Science has set itself the goal of getting children interested in scientific topics as early as possible. They should learn what science is and why it is important for understanding our world.
The collection of games and learning materials for children of primary school age and above can be used for extra-curricular school activities at all-day schools, after-school care centers and other childcare institutions as well as for vacation or leisure projects. The specially developed materials cover topics from the fields of cosmic, chemical and biological evolution. Their intuitive design enables children to grasp the complex concepts directly. Both the designed games and the vivid visual material are valuable tools to support the learning process in a playful and visual way.
The EvoSpieleKiste will be on display in the DAI library on Saturday, November 11 from 10 a.m. and can be tried out under the guidance of project manager Ramona Wagner (Richard Dawkins Foundation for Reason & Science).
There will also be a children's book reading by Wolfgang Wambach:
Adam the Ape is an English-language adventure novel for children aged 9 and up. The author Wolfgang Wambach has also published the book in German under the title Adam the Ape.
Reading at 12 noon and 2 p.m. in English | Reading at 1 p.m. in German.
The exhibition is the prelude to the lecture by Richard Dawkins, who will dive into the depths of science with the audience in the Neue Aula on November 11 from 8 p.m. and convey even complicated concepts clearly and comprehensibly. He is also keen to get young people interested in science.
In cooperation with the Richard Dawkins Foundation for Reason & Science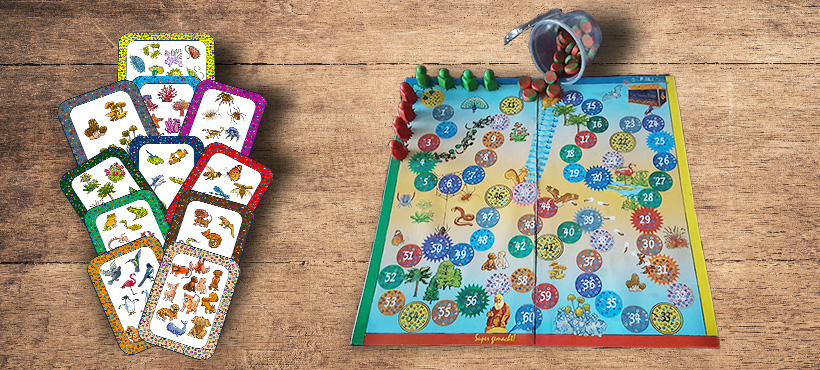 Details:
Date: 11.11.2023
Time: 10:00
Type:
Preliminary program to the lecture by Richard Dawkins
Event type:
Geist Heidelberg Offer for schools Program for children
Free admission